Water resistance level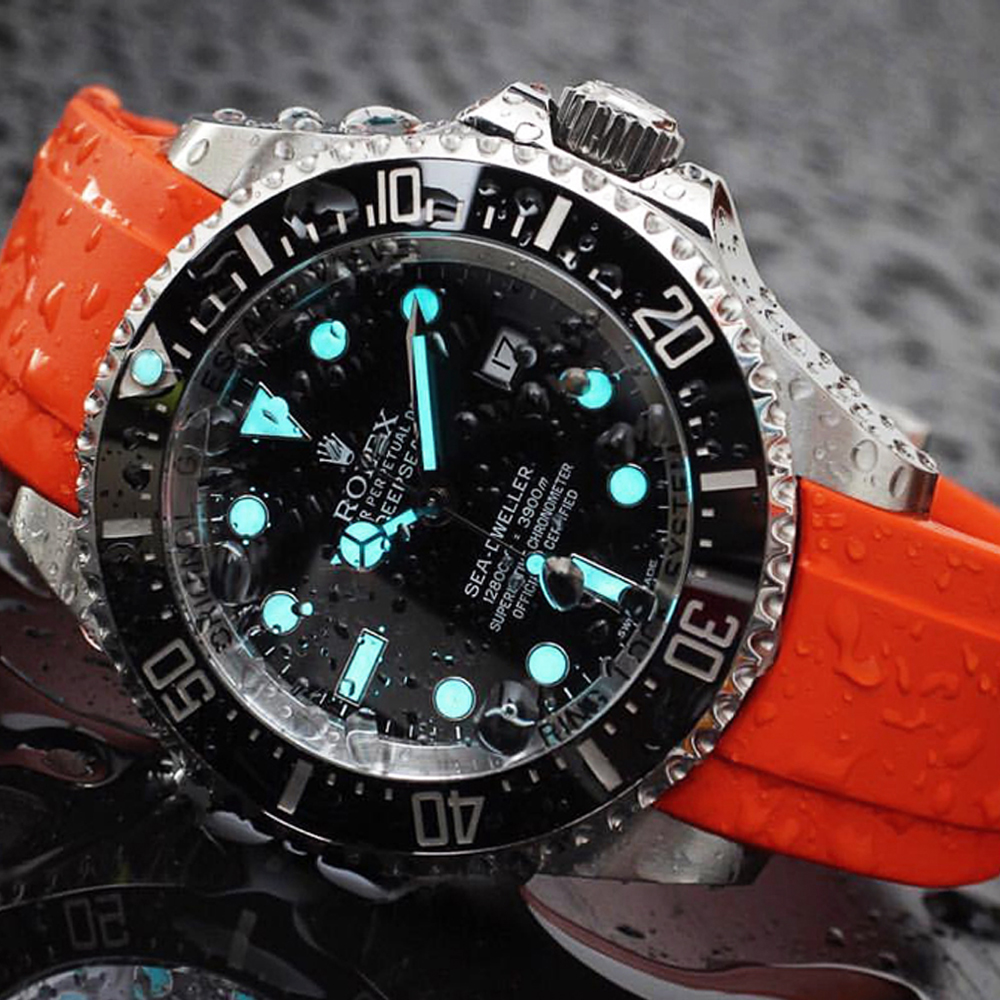 Water resistance is usually indicated on the back of the watch. When a watch has a high resistance to water, such as a diving watch, it is also common that it can be read on the dial. There are several terms on how to indicate the water resistance of a watch: BAR, ATM, FT, M.
ATM: ATM means atmosphere. 1 atmosphere (1 atm) equals 10 meters in still water (static pressure).
BAR: a BAR (bars) is just another way to define an atmosphere, so they are basically the same.
FT: is the water resistance measured in feet in still water (static pressure).
M: is the water resistance measured in meters in still water (static pressure).
Water resistant watches are generally rated at 3, 5, 10, 20, or 30 ATM / BAR. This refers to a water resistance of 30, 50, 100, 200 and 300 meters, respectively. The tests are carried out following a procedure in a laboratory in which the watch is subjected to a water pressure that increases slowly, until it reaches the pre-established level of waterproofing. Then the tester gives the go-ahead to the tested watch or not.
Non-waterproof watches:
If your watch does not say that it is waterproof, treat it as if it were paper. Water is terrible for these watches, and it can completely damage them.
Click to display search filters
Maybe Jules Verne dreamed of a watch that reached such depths in the ocean
See all watches that reach depths greater than 300 meters deep
These watches are suitable for almost everything, as they withstand high pressure and sudden pressure changes. They are built to last and are able to survive the worst of the worst and still remain protected.
See all 300 meter water resistance watches
It is perfectly possible to use one of these watches classified as 20 ATM / BAR for recreational diving.
See all 200 meter water resistance watches
The watch can be worn for swimming. They are watches that are used for water sports such as snorkeling. Do not use them for surfing or diving,
See all 100 meter water resistance watches
The watch can be worn when swimming, and is waterproof enough to wear in the shower.
See all 50 meter water resistance watches
The watch is impervious to rain and splashes.
See all 30 meter water resistance watches
Men's, women's and children's watchmaking firms know that measuring time has been a necessity that has accompanied human beings for thousands of years. From the sundials until the clocks were introduced in the houses, passing through the chimes, the clocks of the bell towers to the wrist watches, without forgetting the traditional pocket watches.

At first, wrist watches were for use reserved for women, but later, during the First World War, in the trenches, their use began to spread among men, up to the present day. Since then, watches have not stopped resurfacing each season, becoming a complement to any look, a cult accessory and the main part of many outfits, with new functionalities and new styles, up to the present day.

Sport is part of today's life and that is why sports wristwatches are renewed every year to reach more audiences, re-emerging with new accessories and increasingly practical functions. Among them, submersible watches have become a key point to be able to control the time when we are on the beach or in the pool, in our leisure time or practicing our favorite sport.
New functionalities for sports watches
Wristwatches are coming to the market with more and more new features and features. The kings of innovations are smart watches, which come equipped with such striking functions as being able to answer messages or calls or check social networks, as well as others such as having a stopwatch or different applications.

Purely sports watches also arrive with more functionalities every time, and those of the higher ranges already present a mix between sports watches, with functions such as the stopwatch, GPS and heart rate meter combined with functionalities of the classic and elegant Smartwatch, such as checking WhatsApp while you are playing sports or on the road.

Among these watches we can find some specially designed for the practice of triathlon, of high quality, which have very high quality submersible functions, to guarantee that the modern and functional watch that we are using to practice sports will not suffer any hurt.
But, if what we need is a sports or sport-style submersible watch, one of the traditional ones, children's style or simply simpler because we do not need so many benefits, we can always opt for simpler sports watches or sports digital style, most of which will feature quality submersible features at cheap prices.
Combine practical and waterproof watches
To combine the waterproof watches we have several options. If a quality sports watch has been chosen, it must be taken into account that there are different replacement straps, in plastic or silicone, which can be purchased at affordable prices to change the finishes of the watch as many times as necessary. It is also a good option if it is a watch that will spend a lot of time under water.

On the other hand, if you are going to choose submersible watches from a range or sport-style watchmaking models, you can choose to select more than one watch at economical prices, to be used according to the styles or needs of each moment. Most of these watches, such as the traditional colored Casio watches, are waterproof and have a stopwatch and a digital display with light. These are basic and simple minimalist watches for children or adults, but at the same time striking and very beautiful.
Select the ideal sports watch
To select the perfect sports watch, therefore, the functionality that is going to be given must be taken into account, because it will not be the same to choose a watch for an expert athlete, who needs a quality waterproof model, than for children who want play in the sea or the pool and we want them to know the time at all times.

In addition to the user and the desired functionalities, their physiological characteristics must be taken into account, that is, the size of the wrist. Although in most cases, for these purposes it will be better to select watches that are not very heavy since it is best that they are practical and easily usable, it should be noted that some of the purely sports quality waterproof watches are large in size for Take advantage of all its functionalities, since they have a quality screen, and therefore with a very wide watch face.
Buy in our shop submersible watches
The best watch will always be the one that allows us to carry out our daily life effectively, facilitating it, either because it allows us to keep track of the time, either because it helps us with its different functionalities or because they help us to complete the perfect look .
As for waterproof watches, men's, women's and children's watchmaking firms know that in addition to being aesthetically beautiful, they must be functional and practical. Buy cheap waterproof watches with the best qualities on the market. Here you can buy watches online in red, green, turquoise blue or yellow, among other shades.

Acquire in our store the best quality sports watches and surely you will not regret it because we have good and modern watches, adapted to all kinds of time zones and all kinds of people and styles. Watches with a stopwatch or chronograph perfect for you. Choose your new ideal accessory and from now on time will not resist you even under water.