WATCHES WITH REAL GOLD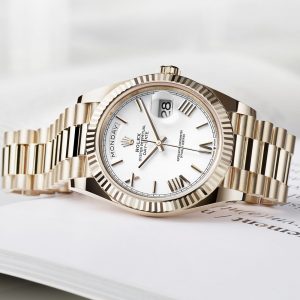 It is well known that gold is one of the most precious objects by people for thousands of years. More than 4000 years ago the Egyptians already considered it an object of great value and most likely in the future, gold will continue to be so. Investing in gold is a safe game, as its value remains stable against inflation and it is an asset that is worth its own, unlike paper money.
Gold is a dense, stainless, malleable and highly electrically conductive metal. Gold is used to make all kinds of electrical components such as cell phones, computers or medical equipment, and in these times where technology is growing by leaps and bounds, the demand for these products is also growing. It is already normal to find that each person has their own cell phone and that even every one or two years they change it for a new one.
Yellow Gold
Pink Gold
Gold to make watches and jewelry.
Before discovering the benefits of gold for technical use, gold was first used as a jewelry accessory, gold has a beautiful yellow color that does not tarnish and always maintains its shine.
Currently there are many metals or minerals much more expensive than gold, however; Gold by tradition is a symbol of abundance, wealth and with it well-being, because in the end, wealth that represents: well-being, prosperity and security, a weapon to combat uncertainty.
Why gold is so expensive.
Gold is great, but it's also hard to mine and everyone wants to have gold. Whether it's used as a raw material for making components, jewelry, or simply storing it in a safe in your room, everyone wants gold. Countries keep their wealth stored in gold, in huge sheltered safe houses. There is no difference between the Middle Ages and today, gold is still the fixed asset par excellence (not bitcoin).
Due to the demand, the popularity and the difficulty of collecting it, this is why the value of gold is so high. Gold is stored in large quantities inside the planet earth, being such a dense metal, it is attracted to the center of it, however; we can find it on the surface trapped in veins of magma, rivers and rocks.
Solid gold, PVD gold plated and gold plating.
To get a watch made of pure gold (24 karat gold), it would only be possible by hand on request and it would be a crazy idea. Gold is a soft metal, very easy to scratch and bend. That is why watches are usually found with 18 carats or a lower purity.
PVD gold plated
Gold plated PVD is a modern ionic technique for coating jewelry and is 10 times stronger than standard gold plated. Plating in gold is a bad buying idea, since the gold will wear off your watch until it disappears.
It is advisable to buy a gold watch
It depends, if what you are looking for is practicality or a sense of accomplishment. As I mentioned before, gold is the metal most appreciated by people and it is worth a lot, but the reality is that watches are not worth the gold they have, since they cost much more than the value of the amount of gold they use for their manufacturing.
Buying a gold watch is synonymous with buying a gold watch because you can. It looks good, they are beautiful and very elegant, but you have to buy a gold watch preferably 18k or much better if it is 14k, both for price and durability.
A PVD (covered in gold) watch even though the gold that covers the watch is quite resistant, it will wear out. You can have it coated, but you probably don't want to take the time to do it.
A watch is worth for the work of art that it is, for the accuracy of the time it marks and yes, its materials, but a gold watch is used for special occasions such as a wedding, a gala, an exhibition and a stainless steel watch is use to have it every day, a sports watch for the sport you practice, be it running, flying, swimming or running.
A gold watch is great and you need to have at least one in your closet for a special gala.